The implementation of different engineering methods to control and stabilize both natural and man-made slopes.
We are Committed to Provide Clients with the Most Cost-effective Solutions in Design and Construction.
With expertise in the fields of soil mechanics, foundation engineering, geotechnical engineering, and construction, our civil engineers have benefited from the training of the country's best in terms of technical design and construction.
Committed to provide clients with the most cost-effective solutions while meeting the technical objectives and achieving technical excellence in design and construction.
There are so many reasons why PGATech should be your go-to solution in your search geospatial needs:
Expertise in Geospatial Solutions
With decades of experience in geotechnical engineering, we bring unparalleled expertise to your geospatial needs and geoconstruction projects.
Cutting-Edge Technology
We execute the latest technologies in geoconstruction which are technically proven, tried, and tested worldwide.
Customized Solutions
Our tailored approach allows us to create site-specific strategies that address your project's unique requirements.
Environmental Commitment
Our eco-friendly solutions prioritize ecological balance, ensuing a sustainable future for generations to come.
Slope Protection Solutions
Design and Construction Services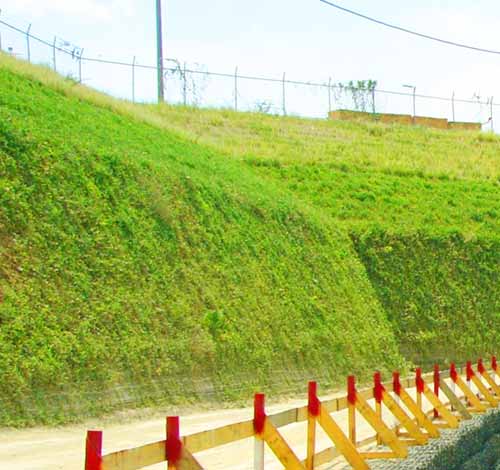 Mechanically Stabilized Earth (MSE) Walls
A gravity type retaining wall composed of alternating compacted fill and reinforcement attached to a facing that prevents erosion. Its stability mechanism relies on the interaction (friction and tensile forces) between the fill and the reinforcement, and it provides better aesthetics and
performance under seismic loadings than RC retaining walls.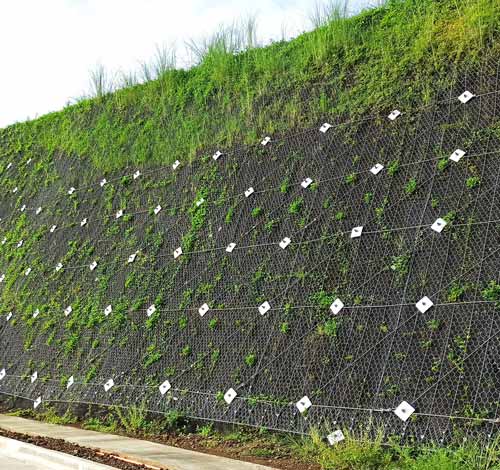 Soil Nailing and Shotcrete
Soil Nailing is a practical and proven technique that serves as a means of passively reinforcing the soil to make it more stable by reinforcing the ground with small diameter rebars known as "nails" protected with a structural facing.
Shotcreting is a method used to apply concrete or mortar at relatively high speeds onto a surface that unifies with the surface forming a stable, durable and continuous layer.
Tie-back MSE
Help control and support slopes or soil on inclines. This technology combines soil reinforcement and a facing system to provide support.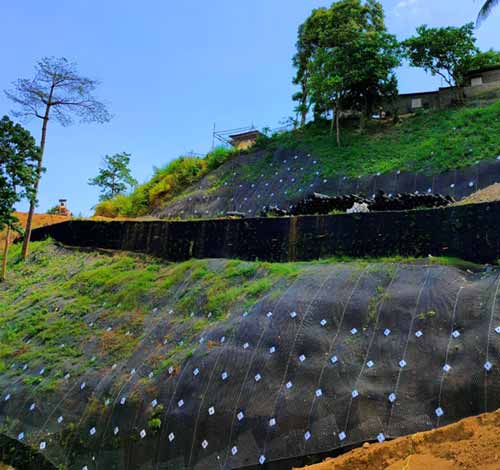 Erosion Control (Concrete Canvas, Erosion Mat, Geocell, Coconet)
Involves the implementation of diverse techniques and measures aimed at mitigating or lessening soil erosion and sediment loss resulting from natural processes such as wind, water, or human activities.